D3M Labs' workshops provoke thought and spark innovation
Use data to drive wisdom and transformation
Creating Innovative Data-as-a-Service Products
Data-as-a-Service (DaaS) empowers organizations to use their digital & information assets to create cash flow through the provision of data and analytical content. DaaS products and business models are already revolutionizing industries – from manufacturing to advertising to financial services and beyond.
This workshop will be a one-day jump-start for your next DaaS product. Through activations and real-world case studies, you will learn step-by-step how different companies monetize their digital & information assets. Simulations and feedback will be used to teach you hands-on how to use Lean Canvas and other tools to formulate and validate your ideas.
Bringing a DaaS product to market both internally in your organization and externally to customers necessitates experimentation and structured learning. You will practice using hypotheses and data to learn from experimenting in uncertainty in order to validate and plan your go to market strategy.

Improve your marketing, sales & communications strategy with data. 
Social Media Analysis, Managing Social Media Listening Projects and combining social with traditional analytical methods:
In addition to and in combination with our Creating Data-as-a-Service Products workshop, D3M Labs is offering specialized workshops for social media analysis, managing social media listening projects and combining social media listening with traditional analytical methods.
Marketing with Data: Accelerating Lead Generation and Sales
In this course, we will focus on how to use data to improve your lead generation efforts and manage your sales and marketing pipeline. We will go through the entire customer buying cycle: from understanding your audience, choosing your vehicle, managing your campaign, qualifying leads to customer conversion and retention. You will start sourcing data, making business decisions based on data-analysis and build upon your customer focused mindset.
Build a data-driven organization
Data-Driven Decision Management & Data Education
Cultivating actionable insight and building a learning organization are critical to reaching your goals – and making more money.
Through lectures, teamwork-based stimulations, as well as crucial feedback, peer review and mentorship on different aspects of data- driven management, you will empower yourself to make fast and accurate decisions while managing your team and/or company. You will leave the course with the ability to use different tools to better structure workflow and manage your decisions.
Building a Data Use Case & Implementation Plan
Big Data is useful insofar that it can solve business problems.  Through thought provoking questions,  lectures, group problem solving and moderated discussion, this workshop helps participatants construct high ROI business cases. The focus of the workshops  is giving you a hands on appreciation for critical steps in building a strategically important business case that is actionable.
"The best way to get a good idea is to get a lot of ideas." 
– Clayton Christensen, The Innovator's DNA
New Industry Dynamics (IoT & Industry 4.0)
The merging of the physical and virtual worlds along with the explosion of data and analytic capabilities are enabling novel b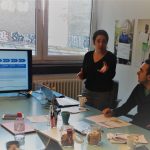 usiness models and new business designs that are redefining products, industries and customer segments. Digitalization holds much opportunity, but also enormous threats to those who are caught unprepared.  This workshop facilitates a proactive formulation of your strategic vision for creating value from digital assets and enhanced analytic capabilities, as well as tactics to monetize information and position yourself to thrive.